West Bali Tour is a part of our tour site to introduce you all of the beauty places at the west of Bali. make your Holiday feels free and comfort with us!!!

Place to Visit :
Melanting bussines/blessing temple

Monkeys temple

Turtle farm(reef seen)

pearl farm

Bukit Kursi/Hill chair

Bali Tower

Mangrove forest

west white gili

Bali National Park(trekking optional)

Hotspring Banjar

Budha monastary
Included :
Hotel Pick Up n Drop

Car with good Ac (2-6 pax max)

Petrol

Parking fee

English Speaking Driver

Mineral waters
Melanting bussines/blessing temple
Melanting temple is one of the temples built commemorating the visit of the Javanese Hindu Priest, Danghyang Nirartha. The temple nestles in the middle of a jungle on a foot hill in Pemuteran, North Bali. A huge parking lot is available for visitors and some warung stand in the area providing drinks and snacks.

Monkeys temple
The village's residents view the Monkey Forest as an important spiritual, economic, educational, and conservation center for the village. There are many of point of interest that you can see here.

Turtle farm(reef seen)
Turtle farming is the practice of raising turtles and tortoises of various species commercially. Raised animals are sold for use as gourmet food,traditional medicine ingredients, or as pets. Some farms also sell young animals to other farms, either as breeding stock, or more commonly to be raised there to a larger size for subsequent resale.

Pearl Farm
Atlas Pearls has an enviable reputation as a global leader in eco-pearling, specialising in the highly sought after silver and white Pinctada maxima, known as the South Sea pearl.
With five farms spread across the Indonesian archipelago, one of our largest is found right here in Indonesia's favourite holiday location, near Singaraja, North Bali.

Bukit Kursi/Hill chair
Pemuteran is not only known to have beautiful coastal scenery. In the same place, the Bukit Batu Kursi Tourism Area can also be an attractive location to visit. Here, you will be treated to a typical natural landscape of hills that is still green and natural. This place can also be an additional alternative besides visiting the Pemuteran Underwater Temple.

Bali Tower
The Bali Tower is a remarkable structure made from five huge logs. It climbs above the tree-line offering incredible panoramic views over the West Bali National Park to the ocean. The 2nd and 3rd floors are home to the Bali Tower Bistro, which specialises in fresh, delicious, fast and simple world cuisine.

Mangrove forest
Mangrove forest area are consist of about 1300 acres is the result of government cooperation with the Japan International Cooperation Agency. This tourist area is great for school kids, to get to know the environment more closely, for pre wedding photo session area, and often used as a place for researches.

West white gili
The islands are a popular destination for tourists. Each island has several small resorts, usually consisting of a collection of huts for tourists, a small pool and restaurant. Most local inhabitants live on Trawangan in a township stretching along its east side just inland (which is also where most recent development is taking place)

Bali National Park(trekking optional)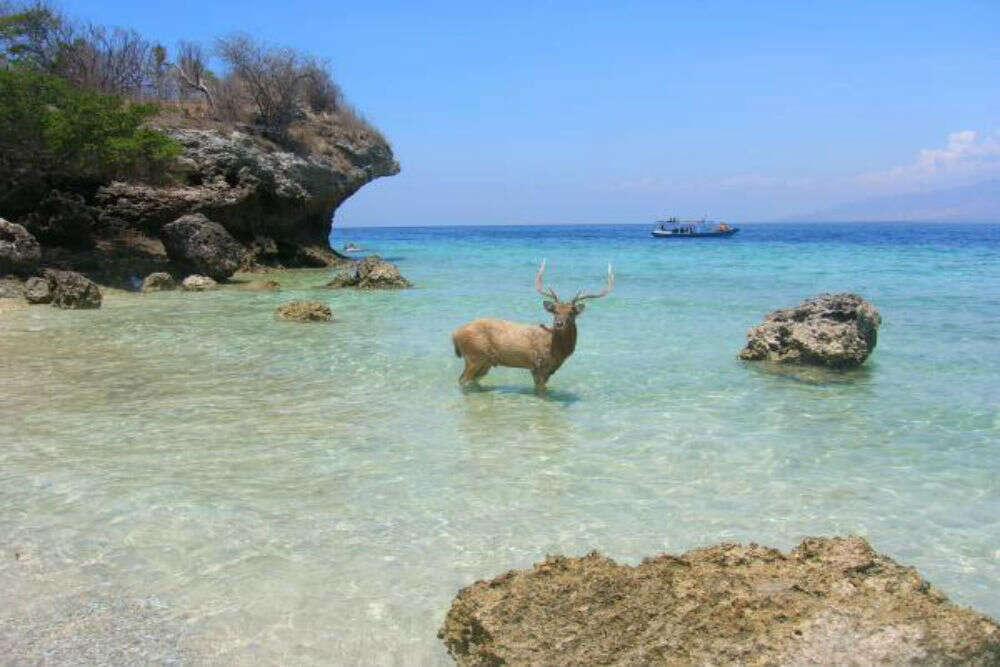 West Bali National Park (Taman Nasional Bali Barat in Bahasa Indonesia) is the most north-westerly point of Bali. It includes the whole of the Prapat Agung Peninsula, and large swathes of land around the towns of Gilimanuk, Cekik and Banyuwedang.

Hotspring Banjar
Banjar Hot Springs, locally referred to as 'Air Panas Banjar', are located approximately 5km southwest from the famous Lovina coast in North Bali. The hot water springs share the same district as the Brahmavihara Arama Buddhist monastery which is located only 1.5km to the east.

Budha monastary
Brahmavihara-Arama is Bali's largest Buddhist monastery, located up in the hills of Banjar, only 1.5km west of the Banjar Hot Springs. Opened in 1970, Brahmavihara-Arama comprises a hectare of hillside, with numerous meditation rooms, libraries, beautiful gardens, and an impressive mini replica of the world's largest Buddhist archaeological site, Borobudur on its highest grounds.
For Booking And Price Please Contact Us via WhatsApp Or Email
---